The journey of Team Red Baron began way back in 2011 when a group of 25 undergraduates dared to do something different. They came up with an idea of forming a team which will build an All-Terrain Vehicle (ATV) to compete in the prestigious competition of BAJA SAE India. A team was formed and the name was derived from the nickname of Capt. Richthofen, the most fearsome pilot from the World Wars who ruled the skies.
The era was different but the determination was same. Keeping this aim in mind, the team toiled through days and nights to turn its dream into reality. The outcome was Albatros 1.0, the first vehicle in Albatros line-up. It competed in BAJA SAE India 2012. In the very first competition, Albatros 1.0 was ranked 34th nationally.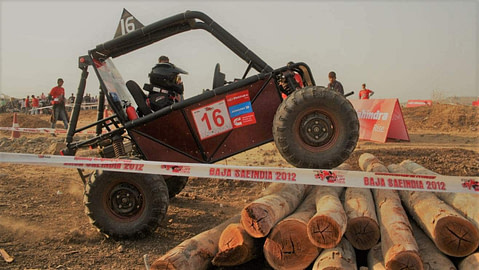 Albatros 1.0
Since then, things just got better. Albatros 2.0 was built the following year to compete in BAJA SAE India 2013. The most notable innovation was the Independent leaf spring front end suspension, which also got selected among the top 5 innovations. Overall, the vehicle was ranked 30th out of 125 teams.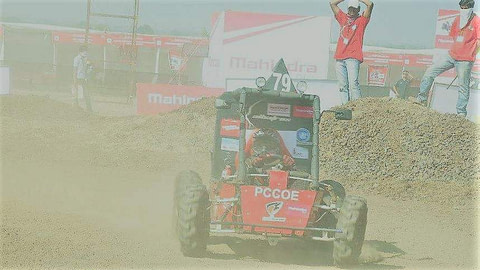 Albatros 2.0
Albatros 3.0 marked the season with many first-evers. The vehicle cleared the Hill-climb test in 13 seconds for the first time, cleared manoeuvrability without penalty for the first time and was nominated for CAE(Computer Aided Engineering) awards in Top 5. Winning the 'Best Engineering Design' award, Albatros 3.0 stood 8th among 125 teams.
Albatros 3.0
The upgrades continued and resulted in building Albatros 4.0. Improvements included better performance in hill-climb and acceleration. Also significant was the fact that the vehicle completed the 4-hour endurance race for the first time without failure, ranking 12th.
Albatros 4.0
The Albatros continued to soar. Albatros 5.0 brought significant improvements in design, and hence performance. Achievements included 2nd prize in 'Technology Innovation' for use of composite material in steering, 5th rank in engineering design, 6th lightest vehicle and 7th rank in acceleration.
Albatros 5.0
Albatros 6.0 was a highly successful vehicle, bringing back home numerous glories. Among them were 1st prize in Design event, 2nd in Endurance race and Cost event and Overall Runner-up in Enduro Student India 2017. At BAJA SAE India, Albatros 6.0 was the 7th fastest vehicle and 9th overall in India. The vehicle also participated in MegaATV Championship 2017, grabbing 5 awards which included 1st in Blackout endurance race and 1st in Drag Race and Overall Runner-Up.
Also, Albatros 6.0 was our First vehicle which participated in an International event, BAJA SAE Illinois 2017 in the USA. In its first endeavour at international grounds, Albatros 6.0 was 7th fastest vehicle and 9th in overall dynamics.
Albatros 6.0
Continuing the legacy of the team, Albatros 7.0, the best Albatros then, won a total of four awards in the season 2018-19. Among them were, 2nd in Endurance Race, 3rd in Cost event and Overall 2nd Runner-up in Enduro Student India 2018. The BAJA SAE India 2018 was more challenging than previous seasons. The team stood 2nd in the 4 hours Endurance Race, winning the Runner-up Durability Award. The design of the vehicle was appreciated throughout the event, for which it even scored the second highest. The vehicle finished the Suspension and Traction event in 95 seconds, securing third rank in it.
Albatros 7.0
Albatros 8.0 was our second vehicle which participated in more than two events. Heading into a busy domestic season of BAJA SAE India in January 2019, followed by Enduro Student India in February 2019, the vehicle made its international appearance in BAJA SAE USA at Rochester, NY, USA in June 2019. The vehicle had a Top 5 finish at both the local events while bagging 1st in Design, 2nd in Cost and 3rd in Endurance at ESI, Pune.
Albatros 8.0
Albatros 9.0 was a product which resulted from drastic changes and enhancements in the vehicle design. Improved coil-over suspension replaced Fox pneumatic suspension, while a completely redesigned CVT 'S1' replaced v1.0. Owing to these changes, the vehicle was ranked 3rd in Design and 2nd in Rock Crawl in BAJA SAE India 2020. It was in ESI 2020, however, that the vehicle truly shone. The team stood 1st in Cost, 1st in Design, 4th in Sales, 2nd in Endurance, Fastest Lap and Overall Runners-up. An outbreak of COVID-19 Pandemic resulted in cancellation of Dynamics of BAJA SAE USA 2020, Arizona. In the Statics events that followed, team ranked in top one-fifth amongst all participating teams.
Albatros 9.0